Liverpool Post closed by Trinity Mirror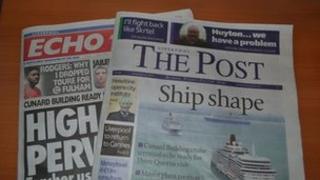 The Liverpool Post is to cease publication after its next edition, the newspaper's parent company has said.
The former daily, first published in 1855, relaunched in 2012 as a weekly but could not stem a drop in sales, Trinity Mirror North West managing director Steve Anderson Dixon said.
He said the decision to close was taken "with the heaviest of hearts".
A company spokesman said no jobs would be lost after the last edition at the weekend.
About five journalists work solely for The Post, according to the National Union of Journalists (NUJ).
'Shocking blow'
Editor Mark Thomas called it the "saddest moment" of his career.
Mr Anderson Dixon said that "sadly, the Liverpool city region no longer generates the demand in terms of advertising or circulation to sustain both the Post and the Echo".
"The Post is a wonderful and much-loved old lady who has simply come to the end of her natural life."
The Trinity Mirror spokesman added that elements of the Post's business coverage would continue in its sister title, the Liverpool Echo.
Chris Morley, Northern and Midlands Organiser for the NUJ, said: "The closure of The Post, as a freestanding publication, will snuff out a great and influential voice for Liverpool.
"It's a shocking blow to the city at a time when it needs champions.
"The NUJ was sceptical when the title was converted from a daily newspaper into a weekly format. We didn't believe it would generate the revenues necessary in a difficult market.
"We will be working hard to make sure our members get the best outcome from this announcement."