Duke of Lancaster Regiment soldiers' Huyton parade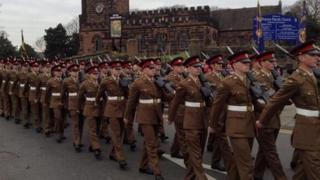 More than 120 soldiers from the Duke of Lancaster's Regiment have performed a homecoming parade in Knowsley to mark the end of their tour of Afghanistan.
The 2nd Battalion servicemen from Merseyside, who served in the Helmand province, marched through Huyton.
Lt Colonel Neil Unsworth, commanding officer, said it was a "genuine privilege" to march for the community.
In April, about 400 soldiers from the regiment were deployed for their final tour of duty.
A service was held at Huyton Parish Church before the soldiers marched to Huyton Cenotaph.
Lt Colonel Unsworth said: "The support we have had from the people back home in Merseyside while we have been on combat operations in Helmand has been amazing, it made a real difference."
The 2nd Battalion Infantry is based at Weeton Barracks, near Blackpool, Lancashire.