John Lennon auction: 'Class clown' detention slips sold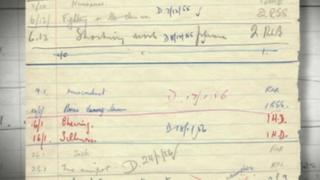 Detention sheets which shine a light on the classroom misdemeanours of a teenage John Lennon have sold at auction for £8,437 each.
The documents reveal the then schoolboy was labelled "class clown" at Quarry Bank High School for Boys in Liverpool.
Reasons for punishments given by his teachers include "sabotage", "fighting in class", "nuisance", "shoving" and "just no interest whatsoever".
The two sheets were sold online by a firm based in Chorley, Lancashire.
They cover the periods in Class 3B between 19 May and 23 June 1955, when Lennon was aged 14, and in Class 4C from 25 November 1955 to 13 February 1956, when he was aged 15.
A signed copy of The Beatles' The White Album was also sold for £136,800 and a pair of cufflinks owned by Lennon sold for £10,937 in the auction on Sunday.