Tributes to Flintshire plane crash couple from Chester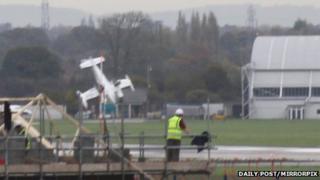 Tributes have been paid to a Chester couple who were killed when their plane crashed in North Wales on Friday.
Gary Vickers, 58, and his partner Kaye Clarke, 42, were returning from a trip to Europe when their twin engine light aircraft came down at Hawarden airport.
"Gary was absolutely devoted to Kaye and she was devoted to him," said Ms Clarke's mother Gela.
They had delayed their journey because of bad weather - but their plane crashed the next day.
"Gary was a gentleman, he was an experienced pilot - he wouldn't have considered taking our Kaye out if he thought there was something wrong with the plane," added Mrs Clarke.
Mr Vickers' sister Maretta Williams said there was a very loud squeal which brought people out of the nearby Airbus factory.
"And as they came out they saw the tragic accident. The plane veered down to the left, I believe, and hit the propellers and spun and that is when unfortunately Gary was killed," she said.
Mr Vickers' father Gordon, who ran the Mill Hotel in Chester with his son, said: "We both started flying 15 years ago. He was very meticulous in his flying and would know exactly how many litres of fuel he would need to go anywhere."
The plane wreckage has been taken away as part of an investigation by The Air Accident Investigation Branch.