Steve Prescott: Funeral for St Helens rugby star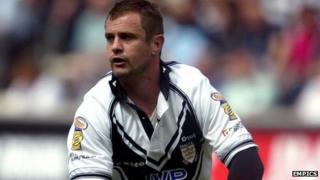 Hundreds of people lined the streets of St Helens to pay tribute to former rugby player Steve Prescott.
Prescott, who played for St Helens, Hull and Wakefield and for England and Ireland, had a rare form of stomach cancer and died on 9 November, aged 39.
His funeral at St Mary's Lowe House Roman Catholic Church in St Helens was followed by a private cremation.
Fellow Saints player Paul Sculthorpe said: "You would struggle to meet a nicer bloke. He was the best."
He said Prescott "threw himself" into helping others after his diagnosis.
'Outstanding career'
"People have been amazed with what he's done in the last seven years since his diagnosis, but people forget he was one of the best rugby players in this country.
"He had an outstanding rugby league career.
"He was an inspiration to anyone who knew him," said Sculthorpe.
St Helens chairman Eamonn McManus said Prescott was a "well-loved player, colleague and friend".
Prescott started his professional career at St Helens, making 117 appearances and scoring 52 tries, between 1993 and 1997.
He retired through injury in 2004 after spending a year out of the game with a broken kneecap.
The St Helens-born star was diagnosed with pseudomyxoma peritonei in 2006.
He set up the Steve Prescott Foundation in 2007 and was appointed an MBE in 2009.
He is survived by his wife Linzi and two children.