Merseyside Maritime Museum seeks Lusitania relatives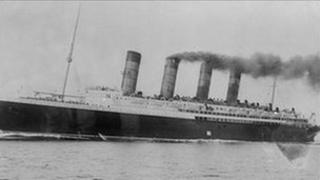 Staff at a Liverpool museum are hoping an open day will help them trace people whose relatives were on board the Lusitania when it sank in 1915.
The drop-in session at Merseyside Maritime Museum is part of the museum's build up to next year's centenary of the sinking.
Curators believe at least 600 people with Liverpool links were on the ship when it sank on 7 May.
Museum staff have contacted some families but want to hear from more.
Ellie Moffat, curator of Maritime Collections, said: "Lusitania was Liverpool's most famous ship and her sinking sent shock waves around the globe and influenced America's entry to the World War One."
'Legitimate target'
She added: "Despite the passing of almost 100 years, many Liverpool families remain touched by this sinking.
"We want to stay in touch with them as well as reach out to other Merseysiders who may have memories of family members who were aboard Lusitania on that tragic day."
The ship was sailing from New York to Liverpool when a German submarine's torpedo sank the vessel off Kinsale, Ireland, killing 1,201 people including 128 US citizens.
Germany claimed she was a valid target as it had issued a warning that all Allied shipping could be attacked.
Adverts had been placed in 50 American newspapers by the Germany Embassy warning US citizens against sailing in British vessels in the month before Lusitania sailed.
The Lusitania was carrying a cargo of rifle ammunition and shells.
In the UK there was anti-German rioting in Liverpool, Manchester and Salford after the sinking.
Two years later, when the US entered the war, it cited German submarine warfare as a justification.
Merseyside Maritime Museum has a Lusitania collection which includes items from the ship and some of the letters and belongings of Captain William Turner, who survived the sinking.