'Forgotten hero' PC James Gordon honoured after 120 years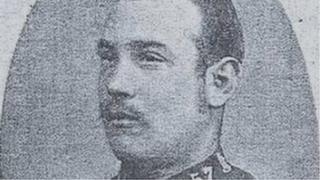 A headstone has been added to the previously unmarked grave of a "forgotten hero" PC killed on duty 120 years ago.
PC James Gordon was attacked with an iron bar when he tried to stop a gang of men breaking into a boiler factory in St Helens, Merseyside, in 1893.
Although the 26-year-old's death is listed in police records, his grave at St Helens Cemetery was left unmarked.
About 100 people attended a ceremony at the cemetery.
Among those who spoke was Geraldine Winner, the widow of film director Michael Winner.
Mr Winner, who died earlier this year, set up the Police Memorial Trust following the death of PC Yvonne Fletcher, who was shot while policing a protest at the Libyan embassy in London in 1984.
Steve Lloyd, the trust manager of the Police Roll of Honour Trust, said: "Although PC Gordon's name and sacrifice is well recorded, I am sad to say that this brave young officer has lain in an unmarked grave since his death.
"As this is the 120th anniversary of PC Gordon's death, [we] believe it is both right and fitting that we mark the service and sacrifice of this local forgotten hero."
The policeman's grave was found by former police officer Brenda Neary, who is a volunteer at the cemetery.