Liverpool's Cenotaph awarded Grade I-listed status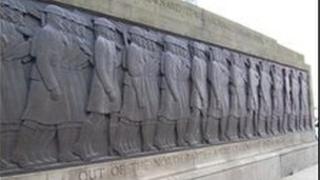 Liverpool's Cenotaph is being upgraded to Grade-I listed status, the government has announced.
Culture Secretary Maria Miller said the Cenotaph would become one of only three Grade I-listed war memorials in England.
She said the Cenotaph, adjacent to St George's Hall, was of "great historic significance".
English Heritage's Dr Roger Bowdler said the "remarkable monument" was a "painfully poignant memorial".
The memorial, designed by Lionel Budden, was unveiled in 1930 and received Grade II status in 1952.
Ms Miller said: "The Liverpool Cenotaph has great historic significance in illustrating the effort and sacrifice of the city of Liverpool and the heroism of those who fought in the First World War."
'Story of sacrifice'
Dr Bowdler, designation director at English Heritage, said: "[It] is a remarkable monument, combining the highest quality of design and artistry with a dignified and painfully poignant memorial to the losses suffered by the people of Liverpool."
He said English Heritage intended to list up to 500 war memorials a year over the next five years.
"Researching, recording and recommending up to 2,500 more war memorials for listing over the next five years is a major task but one that English Heritage is proud to undertake," he said.
"These memorials will gain a place on the National Heritage List for England to tell the story of this country's sacrifice and struggle."
The other two Grade I-listed war memorials are the Cenotaph in Whitehall and the memorial in Victoria Park, Leicester, both designed by Sir Edwin Lutyens.
Grade I buildings are of exceptional interest, sometimes considered to be internationally important. English Heritage says only 2.5% of listed buildings are Grade I.
Approval is needed to make any changes to listed buildings.