Liverpool's music-themed marathon route revealed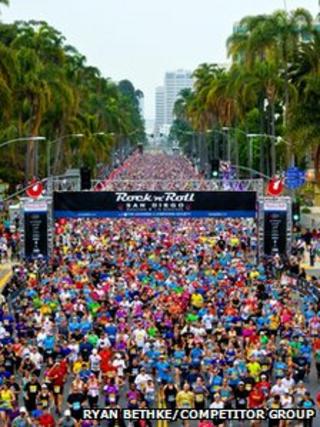 Marathon runners will see the sights of Liverpool during the city's music-themed race, it has been revealed.
Bands will play live music at each mile of the Rock 'n' Roll Liverpool Marathon & Half Marathon course.
The race on 25 May will begin at the Albert Dock and the route goes on to Liverpool and Everton football stadiums, Stanley and Sefton parks.
This year's marathon in the city was cancelled after organisers could not agree on a suitable route.
Tom Godfrey, general manager of Competitor Group Europe, which operates the Rock 'n' Roll Marathon Series, said: "The marathon course really offers runners a beautiful balance of urban and magnificent park views to highlight Liverpool's unique neighbourhoods, tree-lined streets and majestic waterfront."
Organisers said the route would also cover the city's waterfront, the Chinese Arch, museums and the commercial districts.
Liverpool City Council said the event should attract 10,000 runners.
A post-race concert will take place at the Liverpool Echo Arena complex.
The Rock 'n' Roll series started with a marathon in San Diego, US, in 1998.
Cities to have hosted the series since include Las Vegas, Los Angeles and San Francisco.