Loan sharks jailed for illegal money lending on Merseyside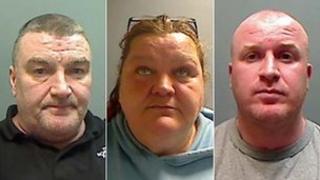 Three loan sharks who operated an illegal money lending business on Merseyside have been jailed.
John Radford, 57, Paul Holman, 35, and Sindy Hope, 50, were convicted following a 12-day trial of their involvement in an illegal money lending business.
Radford was sentenced to 30 months and the Holman and Hope were given 10-month sentences.
Chester Crown Court heard Radford has previous firearms convictions.
The court was told Radford, of Park Road, Warrington, engaged Holman, of Redpoll Grove, Halewood, and Hope, of Castle Rise, Runcorn, in collecting payments, brokering new and additional loans and intimidating people who defaulted in the Liverpool and Halton areas.
'Significant wealth'
Their illegal money lending operation ran between October 2010 and March 2012.
When they were arrested in March last year, they were due an estimated return in excess of £420,000.
Investigators from the England Illegal Money Lending Team analysed the trio's records and saw, in a six-week period, they had approximately 130 customers owing them almost £100,000.
Prosecutor Simon Mortimer said Radford continued to "generate significant wealth at the expense of vulnerable people... locking them into a spiral of never ending debt, high interest rates and no prospect of ever concluding their dependency on him."
One victim who took out a loan for £1,000 was forced to pay back £60 every week for a year, meaning they paid back more than three times what they had borrowed.
'Slippery as an eel'
When they struggled with repayments, they were forced to take out further loans to repay the first. As the debt spiralled, the victims were told they owed more than £13,000, the court was told.
In sentencing, His Honour Judge Ian Trigger described Radford as "as slippery as an eel."
Radford, who had previously worked as a legal money lender, but allowed his licence to lapse, lived in a large detached property and owned 17 other properties, which he rented out, as well as nine vehicles.
He also had more than £775,000 across five bank accounts, despite declaring less than £250,000 as his income through employment, the court heard.
A number of weapons including machetes, knuckle dusters and pepper spray were found at Radford's home in March last year and £17,000 was seized from safes.
He was jailed for eight years in December after a loaded revolver and ammunition were recovered from his home.
He will serve 30 months consecutively for money lending.
Tony Quigley Head of the England Illegal Money Lending Team said: "This case exemplifies how we are cracking down on loan sharks who exploit and extort the vulnerable for their own personal gain. These criminals are not untouchable, and can be stopped."