Welsh Streets: Liverpool City Council buys last eight properties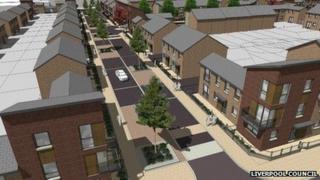 The last eight of 311 properties needed for Liverpool's £15m Welsh Streets regeneration are to be bought by the council.
Liverpool City Council has agreed to the compulsory purchase orders despite a government announcement a public inquiry will be held about the plans.
The council plan would see 150 new homes built, about 280 homes demolished and 37 properties refurbished.
It said it was "confident" the inquiry will allow the scheme to go ahead.
The planning process was frozen in July, hours after councillors gave the green light when Communities Secretary Eric Pickles announced the decision had been called-in.
Mr Pickles said his department would review the plans after representations from campaigners opposing demolition.
Councillor Ann O'Byrne, cabinet member for housing, said: "Our plans were supported by more than 70 percent of local people following a thorough and detailed consultation, so we are confident that we will get the green light to proceed at the planning inquiry.
"We want to make sure we are in the best possible position to drive forward the regeneration at the conclusion of the inquiry."
The Welsh Streets were built in the late 19th Century when there was an influx of Welsh people who came to Liverpool to work as dockers.