Liverpool Chandlers Wharf crane collapse driver's £2.7m compensation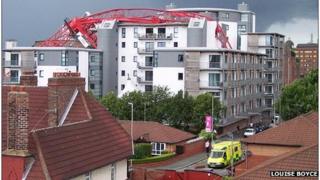 Construction firms are to pay about £2.7m in compensation to the driver of a crane that collapsed in Liverpool, leaving him paralysed.
The 200-tonne crane toppled on to an apartment block at Chandlers Wharf in Liverpool city centre in July 2009.
Driver Iain Gillham was paralysed when he was thrown from the cab.
An out-of-court settlement was agreed with insurance companies acting for Bowmer and Kirkland Ltd, Bingham Davis Ltd and Adana.
An annual payment of £180,000 will also be paid for the rest of Mr Gillham's life.
Mr Gillham's legal team said he will be reliant upon a team of carers, with the compensation also funding necessary changes to his accommodation and transport.
'Catastrophic spinal injury'
The crane was being used in the construction of a hotel and flats at Kings Dock Mill in Tabley Street when it fell on to Chandlers Wharf apartment block.
Part of the crane's counter-balance became embedded in the four-storey building and Mr Gillham, 58, from Whiston was thrown from his cab, falling 50ft (15 metres).
His injuries included a brain haemorrhage, fractured skull, spine fractures and a broken shoulder. He is paralysed from the waist down.
Derbyshire-based construction firm Bowmer and Kirkland Ltd and Liverpool construction engineers Bingham Davis were found guilty of health and safety breaches at Liverpool Crown Court last year.
Adrian Denson, of Fletchers Solicitors, said: "What Iain has been through since the accident is appalling and it is a regret that the complex arguments between the various companies involved in the crane collapse meant that settlement has only just been reached.
"He suffered a serious head injury and a catastrophic spinal injury which means he will use a wheelchair for the rest of his life.
"This settlement means he can now get on with the rest of his life without worrying about paying for essential matters such as his accommodation, equipment and care."