Hazel Bailey death: Husband jailed for walking stick killing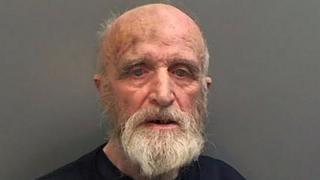 A 74-year-old man suffering from dementia who brutally beat his wife to death with a walking stick in a row over the heating has been jailed.
Hazel Bailey, 82, was found dead at the bungalow she shared with her husband in Rilshaw Lane, Winsford, Cheshire, on 7 September last year.
Douglas Bailey pleaded guilty to manslaughter on the grounds of diminished responsibility.
He was jailed for five years at Chester Crown Court.
Cheshire Police said Mrs Bailey suffered a sustained and brutal assault some time between 5 and 7 September 2012, and died as a result of blunt trauma to the head caused by multiple blows.
Suspicions were raised when the couple's window cleaners noticed blood stains on Bailey's pyjamas and told a neighbour.
Mrs Bailey's body was then discovered on her bedroom floor by a neighbour who went to check on her.
'History of abuse'
Police said Bailey confessed he lost his temper during a row over the heating and attacked his wife, who he had been married to for 45 years, while she was in bed.
He told officers he left her after the assault and returned to his bedroom. When he went back to her he realised she was dead but he did not seek any help, police said.
Bailey was charged with murder and subsequently pleaded guilty to manslaughter on the grounds of diminished responsibility after it was shown he was suffering from dementia.
Det Insp Helen Spooner said: "Hazel suffered a horrendous attack from a man who should have been caring and looking after her.
"Our investigation uncovered a history of domestic abuse between the couple, which unfortunately was never reported to police."