Boxer Derry Mathews arrested over takeaway shop assault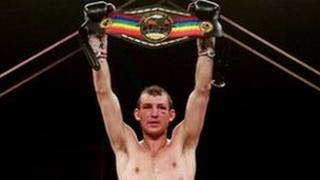 Boxer Derry Mathews has been arrested on suspicion of punching a woman in a takeaway in Liverpool.
Police said a woman, aged 25, suffered facial injuries in Lemon and Lime on Dale Street, shortly before 04:00 GMT on Saturday.
The victim was struck by a man following a row with his wife, said police. Police said she was taken to hospital but her injuries are unknown.
Mr Mathews, 30, who is Commonwealth lightweight champion, was bailed.
Police said the offender and his female partner had left in a taxi when officers arrived.
Fight scheduled
Merseyside Police said in a statement: "Detectives have spoken to several witnesses who were inside the takeaway at the time and are viewing CCTV taken in and around Dale Street.
"A 30-year-old man from the L14 area was arrested on Saturday on suspicion of assault and questioned by detectives before being released later that evening on conditional police bail pending further inquiries."
On his Twitter account, Mr Mathews denied any wrong-doing.
He also tweeted he had arrived in Lanzarote where he is training for his next fight, at Liverpool's Echo arena on 7 December.
He is managed by Queensberry Promotions, which is run by Frank Warren and his son Francis.