Man with bullets in shoe at Liverpool John Lennon Airport jailed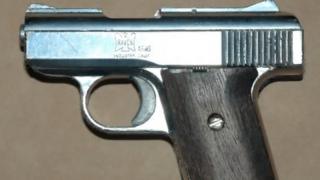 A man found with bullets in his hand luggage at Liverpool John Lennon Airport has been jailed for six years.
Ammunition was found in a shoe in Michael McMahon's bag as he tried to board a flight from Liverpool to Dublin in August, Liverpool Crown Court heard.
The home of the 63-year-old in School Lane, Rainhill, was then searched and two guns found.
He pleaded guilty to seven offences of possessing ammunition and firearms, and having a dangerous item in an airport.
Pistol in boot
Police said officers were alerted by security staff as McMahon's bag went through an x-ray machine and found a drawstring bag in a shoe containing 13 live rounds of ammunition and two spent cartridges.
The subsequent search of his home turned up a black self-loading pistol and more ammunition in a wooden beam above his bed and another pistol with two live rounds in a boot in his kitchen.
McMahon told police he bought one as security following a spate of nearby robberies and the other was an antique given to him by his aunt.
He later pleaded guilty to one count of possessing a dangerous item in an airport, four of possessing ammunition without a firearms certificate and two of possessing prohibited firearms.
Det Ch Insp Will Chatterton, of the North West Counter Terrorism Unit, said McMahon had "never satisfactorily explained why he had these weapons and ammo in his possession and what they were intended for".