Boy, 15, detained for 'video game' Anfield bank raid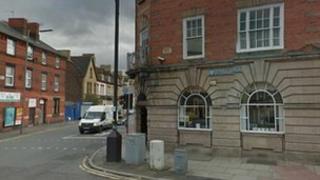 A schoolboy who admitted robbing a bank with an imitation firearm has been sentenced to 40 months in a young offenders institution.
Liverpool Youth Court had been told the 15-year-old boy acted as if he was in a "real-life video game".
The teenager, who cannot be identified for legal reasons, was described in court as a "model pupil".
The court heard he stole more than £2,000 from a branch of Barclays in Liverpool on 20 September.
He was handed to the police by his mother, who was shocked to find cash, stained with dye, and a fake gun in his bedroom.
The teenager pleaded guilty to two counts of robbery last month and one count of possessing an imitation firearm with intent to cause fear of violence.
Passing sentence at Liverpool Crown Court, Judge Clement Goldstone QC told the boy: "However innocent you look now, as you sit in your smart suit, you did not look innocent when you held up bank staff at gunpoint and terrified them."
The judge said the teenager had planned the robbery at that particular branch because he thought it would be a "soft touch".
'Looking for socks'
The judge said the boy's mother had shown "a remarkable display of public spirit" in reporting her son to police.
Judge Goldstone said her actions were "all the more commendable" when compared to other cases where some parents were prepared to lie to protect their children when they knew they had committed serious crimes.
He accepted the boy's remorse was genuine but said custody was necessary, not simply to punish him but to "show other boys that, if they choose to commit offences of this kind, they will be sent to detention".
Kim Egerton, prosecuting, told the court that the robbery was carried out at 11:45 BST when a man was seen walking into the bank wearing a black Parka-style coat, with the hood up and a scarf covering his face.
A black handgun was produced and the robber ordered the terrified cashier to fill a bag up with money, before adding: "Don't do anything stupid. I have just got out of prison after five years."
She said the boy's mother discovered £2,200 stained with dye in a yellow draw-string bag while she was tidying his bedroom and "looking for socks".
"Emptying the bag, she was horrified to discover the imitation firearm," Miss Egerton said.
Theresa Loftus, defending, said the boy knew he had "brought shame on his family".
She said the boy's mother had "clearly instilled in him" a real sense of family loyalty, duty and religious faith.
She added that the boy was "an intelligent young man who has shown some educational promise".