Human trafficking 'gift box' art unveiled in St Helens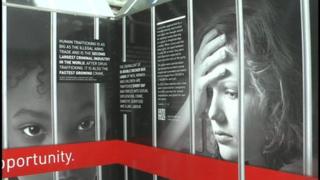 A public work of art designed to raise awareness of human trafficking has been unveiled in St Helens.
The giant box, which looks like a gift box from the outside, was set up by the group Soroptimist International in Church Street.
When visitors go inside they are confronted by victims' "grim" stories, the group said.
There have been 140 trafficking cases in the North West since 2011, the charity Hope for Justice said.
The Soroptimists, a group for businesswomen, said human trafficking victims were often promised a better life, education, job and gifts by traffickers, but once they arrived were "confronted with a very different reality".
The art work will be on view until 26 October.