Liverpool Coastguard closure 'a gamble', says Sefton Central MP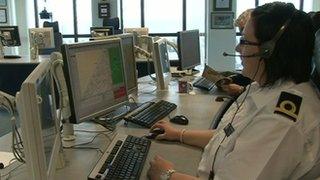 An MP has said the government is "gambling" with people's lives after the transport minister announced five coastguard stations will close.
Conservative MP Stephen Hammond revealed the Liverpool station, based in Crosby on Merseyside, is designated for closure in January 2015.
The Public and Commercial Services (PCS) union backed concerns raised by Sefton Central Labour MP Bill Esterson.
The Maritime and Coastguard Agency (MCA) said services will be unaffected.
Mr Hammond announced Brixham in Devon, Portland in Dorset, Solent in Hampshire, Walton-on-the-Naze in Essex, will also close within the next two years.
A group of 10 round-the-clock centres will take over search and rescue operations once the stations close.
'Losing local knowledge'
The availability of coastguard rescue teams, lifeboats, rescue helicopters and other rescue assets will remain the same, the MCA said.
Coastguard stations help to co-ordinate search and rescue operations along the UK coastline, as well as providing shipping information and other essential services.
According to the government, the work done by the Liverpool coastguard will be covered by a facility at Holyhead in North Wales.
Mr Esterson said lives will be put at risk as local knowledge will be lost when they shut.
He said: "The key issue here is response times and losing the local knowledge that people have built up over 20 or 30 years in many cases.
"The relationships they have with many people in the local community is going to be a very, very serious problem."
He added: "It is a gamble that is a gamble too far. They are doing it to cut costs."
PCS representative Jeremy Gautrey said staffing levels had already dropped by more than a third after the closure plan was first discussed in 2011.
He said some people would transfer to the Holyhead base or further afield but staff had already left for new jobs.
Mr Gautrey said: "The work will be taken up by the national network but that will be without the experience that the staff in Crosby have.
"The national network sounds great in theory, but that local knowledge sometimes means that rescues are deployed much quicker and a matter of seconds risks someone being dead or alive."
The MCA has confirmed the first stations will shut in Dorset and Hampshire next September followed by Brixham in Devon next November.
The Essex station will close in June 2015.