Two men "instinctively" save River Mersey ferry fall girl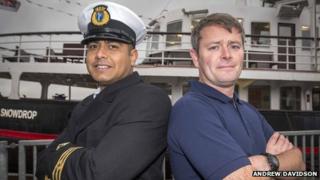 Two men say they "instinctively" reacted to save a toddler who fell into a river from the top deck of a ferry.
Captain's mate Ricardo Ermocilla, 38, dived into the River Mersey and chief engineer Ste Murphy, 41, directed him to the three-year-old girl.
Her mother, who asked to remain anonymous, said she "can't explain how grateful" she is for "saving her daughter's life".
The child fell from the Snowdrop at Seacombe Ferry Terminal on Monday.
Mr Ermocilla, who moved to Crosby, Sefton, from Panama, said: "I heard the captain say that somebody had gone into the water.
"I rushed to the main deck, looked over and saw a little pink coat floating in the water.
"I shouted 'I'm going in', took my shoes off and jumped into the water.
"It was instinct."
The girl fell into the river moments after the Mersey Ferries boat had berthed at the port at about 14:30 BST.
'Screaming'
She was partly hidden under the fender, the buffer between the ship and quayside, while she was in the water.
Mr Murphy, who was not on the boat when the incident happened, said: "I'd heard a couple of bangs and a splash and saw a woman looking down from the boat into the water screaming.
"My first thought was that she'd lost her bag, but then I heard somebody shout 'it's a baby'.
"There's no doubt her padded coat was keeping her afloat."
Mr Murphy, from Aigburth, Liverpool, directed Mr Ermocilla and told him what to do once he had hold of her.
Mr Ermocilla said he was relieved when the toddler started crying.
The father-of-two said: "The first thing I saw when I grabbed her were big blue eyes looking up at me in shock. I remember saying 'I've got you now'.
"She started to cry which made me feel so much better as it meant she was breathing."
'Team effort'
He said seeing Mr Murphy's hand, to help them out of the water, was like "the hand of God".
"He grabbed me, pulled me in, took the girl from me, lifted her up and put her on his chest," he said.
According to tide tables, it was a low tide at the time of the incident.
Mr Murphy, who also has two children, added: "It was a real team effort. This isn't just about me and Ric.
"Somebody was really looking down on us on that day too.
"It was so lucky that it was low tide as the Mersey is one of the fastest tidal rivers in the world."
The girl's mother, of Warrington, Cheshire, said: "They went into the water without even thinking about it.
"It was a horrific experience, but one that puts your faith in human nature."