Helen McCourt murder: Body of 1988 killing victim not in grave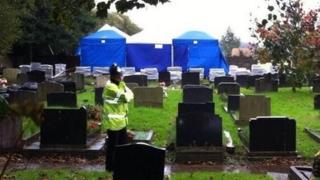 The remains of murder victim Helen McCourt were not in a grave that has been exhumed, police have confirmed.
Merseyside Police have confirmed the occupants of the grave in Billinge "are in keeping" with cemetery records.
Officers dug up the grave in St Aidan's Church, after intelligence linked it to the 1988 murder of Miss McCourt.
A police spokeswoman said her family "have now been advised in relation to the result of the search."
Miss McCourt's remains have never been recovered despite extensive searches.
Pub landlord Ian Simms, a married father of two, was convicted of her murder and given a life sentence after blood and an earring identical to one owned by the 22-year-old were found in his car boot.
Old mine shafts have previously been searched along with drain ditches and drained ponds.