Alder Hey £50m appeal launched to make it "world class"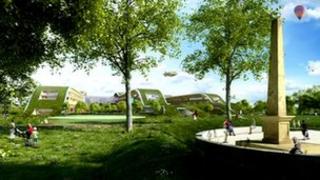 A children's hospital has launched a £50m appeal to make it a "world-class" centre for care.
Alder Hey Children's Hospital began the appeal to buy toys and equipment for a new building, due to open in 2015.
Professor Michael Brown, chair of the Alder Hey Children's Charity, said the hospital was a fabulous place.
He said the hospital treats 270,000 children every year - four times the size of Great Ormond Street Hospital in London.
"There was only one part of Scotland where they didn't send us someone to treat last year," he said.
'Once in generation'
The hospital sees 60,000 emergency admissions every year.
The charity buys 20,000 crayons to keep children occupied in A&E, he said.
Although the hospital has a new building, it needs medical equipment, play equipment and play specialists not funded by the NHS.
Mr Brown described it as a "once-in-a-generation opportunity" to create a world class children's hospital for the whole of the UK.