Britain in Bloom awards: Woolton wins urban gardening award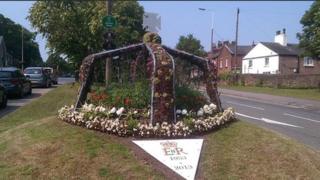 A village in Liverpool has picked up a gong in the Britain In Bloom awards.
Woolton won the Urban Community category in the awards staged by the Royal Horticultural Society (RHS) in Cleethorpes on Saturday.
The RHS said Woolton, which has previously won two gold awards in the Large Village category, had "excellence in horticulture standards everywhere".
Kerry Peacock, who led Woolton's entry, also received a community champion award.
'Champion of the community'
Woolton's entry fully warranted the only gold awarded in the category, said the RHS.
The RHS praised the village's "pollinator-friendly gardening" and the range of edibles on streets and in spaces everywhere.
Ms Peacock said: "We are all absolutely thrilled. To be named national champions is stunning."
It was the first time the village had been entered in the Urban Communities category.
Ms Peacock said: "I was really upset when we were moved into the Urban Communities by the RHS because we were part of Liverpool.
"I didn't think for a minute we would win because we were up against places like London Bridge which we were told has a budget of £850,000, The Lanes in Norwich and Clifton in Bristol," she said.
"We have 20 volunteers and we pay for all the plants ourselves or by fundraising."
She added: "I am always proud of the team of volunteers and this accolade is a fitting tribute to their hard work."
The RHS said Ms Peacock, who has worked on the floral displays in the village for 11 years, was "truly a champion of the community".
More than 1,000 communities entered the 2013 Britain in Bloom awards.