Car plunges into River Mersey at New Brighton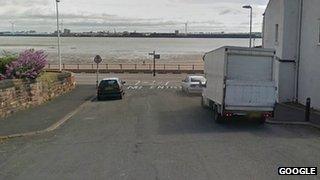 An elderly woman was pulled from her car when it plunged into the River Mersey at New Brighton.
The car went through a safety barrier at the junction of Egremont Promenade and Caithness Drive at 14:40 BST.
Det Ch Insp Tracy Hayes said patrols and two people working nearby "managed to prevent the car from being submerged further."
They freed the driver, a local woman thought to be in her 80s, who was taken to hospital for treatment.
DCI Hayes praised two utility workers whose "quick thinking and brave actions" prevented the car from going deeper in "high tide and treacherous conditions."