Axing Liverpool's bus lanes 'may lose passengers'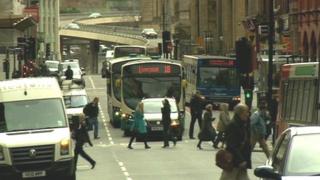 Transport minister Norman Baker has expressed concern that plans to scrap bus lanes in Liverpool could lead to lost passengers and more congestion.
The city council is to suspend the lanes across the city in a nine-month trial from 21 October after mayor Joe Anderson said they did not work.
But Mr Baker said without the lanes buses may be less reliable and lose passengers.
The council said it aims to look at the impact of bus lanes on traffic flow.
Transport industry groups described the plans as "alarming".
A spokesman for the Confederation of Passenger Transport UK (CPT), representing the bus, coach and light rail industries, said the move could mean passengers turning their backs on bus services.
"Priority measures such as bus lanes enable services to move freely and keep to time, providing an attractive alternative to taking the car, which in turn helps ease congestion and improve local air quality," he said.
"If the removal of bus lanes in Liverpool reduces the reliability of services, passengers will be lost and the viability of services would be severely compromised."
'Worrying signal'
Mr Baker has written to Mr Anderson urging him to take a more "targeted approach" as "once bus passengers are lost as a result of falling punctuality and reliability, experience suggests they would be hard to win back".
He also said he was concerned the suspension would "send out a worrying signal nationally about the importance of excellent public transport, especially in large city areas".
Arriva Merseyside claimed it had not been consulted before the decision was made.
The council said it will consult with bus operators during the first six months of the trial.
"We will then make an informed, evidence based decision about the future of each bus lane when the trial is completed," a council spokesman added.
"It all forms part of the council's commitment to ensure safe movement of vehicles, improve traffic flow and ensure the city makes the most of its highway network."