Snake thrown over fence and dumped in Orford, Warrington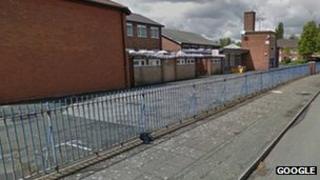 A snake has been rescued after it was thrown over a fence in a box in Warrington, Cheshire.
Police said a 4ft (1.2m) snake was found on a footpath at midnight at the disused Fordton Leisure Centre on Chiltern Avenue, Orford.
A concerned resident reported seeing someone throwing a box over the fence.
Police said officers "exercised caution" as they did not know if the snake was dangerous. She said the RSPCA said the snake was unharmed.
PC Julia West, who described it as one of their more unusual callouts, said the RSPCA was now caring for snake and trying to identify what species it was.
She said officers had "absolutely no idea" who dumped the snake or why.
"We haven't been able to identify the person involved, the reasoning behind or why someone dumped it at this location."
PC West added: "It could possibly be someone's pet."