Dingle tunnel collapse repair work begins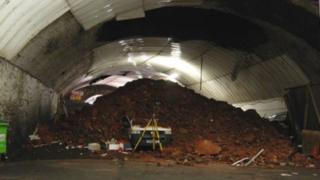 Repair work on a tunnel which collapsed beneath homes in Liverpool is starting later - more than 14 months after residents were evacuated.
Eleven houses were declared unsafe after the disused railway tunnel in Dingle collapsed in July 2012.
Deputy Mayor Paul Brant said he was sure the residents would be "pleased and relieved" work had started.
The first phase is expected to last two weeks and involves testing the tunnel from the entrance to the collapse site.
Liverpool City Council said it had "resolved outstanding legal issues" and awarded a contract to engineering firm SES Contracting.
Families in the homes affected on Sundridge Street, Dingle Grove and Toxteth Grove have been living in temporary accommodation.
Sundridge resident Maria Sullivan said: "There is still a long way to go.
"We have been told that even if the first phase goes ok there will be at least 12 weeks' work before we can go home - we won't be back by Christmas."
Mr Brant added: "We spent a long time negotiating to get to this position and we are very aware that it has been an extremely frustrating and stressful time for the residents who have shown a great deal of understanding and patience."