Hillsborough inquests: Police footage 'was edited' claim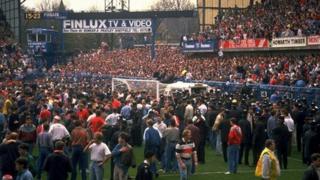 Video filmed by police during the Hillsborough Disaster "may have been edited", a pre-inquest hearing has been told.
Pete Weatherby QC, representing 21 victims' families, said an expert had assessed footage from handheld cameras.
Fresh inquests into the deaths of 96 Liverpool fans during the 1989 FA Cup semi-final will begin on 31 March.
Coroner Lord Justice Goldring said he would consider a request for an independent expert to be called.
Victims' families attended the penultimate pre-inquest hearing in London which also heard the BBC will release "untransmitted" footage of the disaster.
A spokeswoman for the corporation said: "The BBC has already disclosed to both the coroner and Operation Resolve, which is staffed by Greater Manchester Police, the BBC's untransmitted footage filmed at the stadium on the day.
"Our records indicate that this footage was all disclosed to West Midlands Police on behalf of the Taylor Inquiry in 1989, to the Home Office who requested it on behalf of Lord Justice Stuart-Smith's Hillsborough Scrutiny in 1997, and that on a number of occasions it was also disclosed to the relatives/representatives of victims where it had been requested."
'Unprecedented scale'
Coroner Lord Justice Goldring told relatives he was "committed" to ensuring the inquests begin on time.
He told the hearing: "We will start when I've said we will start.
"I certainly remain committed to that date and it is partly for that reason that I have sought, obviously through those who are helping me, to drive those investigations forward as much as I can.
"I shall not cease, so that it is absolutely clear, to seek to drive these investigations onwards as much as I conceivably can."
Mr Weatherby told the hearing handheld footage filmed by police at Hillsborough might have been edited, according to an expert who looked at the images.
He asked for an audiovisual expert to be among those to give evidence to the inquest to ensure the best possible copies were shown to the jury.
The hearing was told the evidence involved in the inquests was "unprecedented in terms of scale and complexity" and new documents were likely to emerge up until the last moment as investigations into the disaster are still continuing.
Jurors are likely to be taken to Hillsborough once the inquests begin in Warrington to give them a better knowledge of how the disaster unfolded.
Worldwide response
The disaster took place at Sheffield Wednesday's Hillsborough stadium on 15 April 1989 when fans were crushed to death at the match between Liverpool and Nottingham Forest.
The original inquest verdicts of accidental death were quashed in December, three months after the damning findings of Hillsborough Independent Panel report were released.
Two other inquiries are also taking place.
Operation Resolve, led by former Durham Chief Constable Jon Stoddart, is investigating whether the fans were unlawfully killed, and the Independent Police Complaints Commission (IPCC) is investigating the conduct of police in the aftermath of the disaster.
The IPCC's latest bulletin reported that 1,063 people had come forward since it appealed for witnesses just over two weeks ago.
It said responses had come from as far as Australia, USA, Africa and Europe with the majority from fans who were in the Leppings Lane end of the ground where fans were injured or killed.