Police probe "racist" Lord Sugar tweet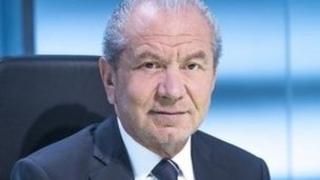 Lord Sugar has been investigated by police after he was accused of posting a racist message on Twitter.
The businessman and star of The Apprentice posted a photo of a child apparently of Chinese origin crying.
He wrote: "The kid in the middle is upset because he was told off for leaving the production line of the iPhone 5."
Merseyside Police said it had investigated a complaint but said "no criminal offences" had taken place.
Lord Sugar's spokesman said he would not be commenting on the complaint.
Liverpool shop owner Nichola Szeto had taken offence about the reference to the Asian factories where the mobile phones are produced and complained about the "racist tweet" to the Metropolitan Police.
She was then contacted by Merseyside Police and went to a Liverpool police station to make a statement about the tweet, which was posted on 30 September.
A police spokesman said: "Merseyside Police can confirm officers received a complaint in relation to the tweet sent on the evening of Sunday September 30.
"The communication has been examined by the force's specialist hate crime investigation team and at this time it has been recorded as a hate incident and no criminal offences have taken place.
"Officers from the specialist team will be contacting the person who made the initial complaint to discuss this."