Beatles memorabilia price probe launched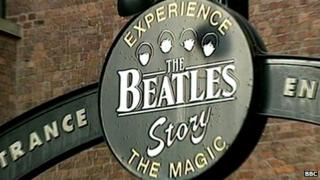 An inquiry has been launched after £2m of public money was used to buy Beatles memorabilia later revalued at £300,000.
The review of the 2008 purchase by Merseytravel began when auditors found a conflict of interest between the valuer and seller.
KPMG said "serious failures" occurred when the transport authority bought items including John Lennon's glasses for The Beatles Story museum.
Merseytravel said "due process" was not followed but changes had been made.
The authority took over the running of the museum in 2008.
It bought Lennon's wire-rimmed glasses for a permanent exhibition at The Beatles Story museum which it runs along with two other Merseyside visitor attractions.
The glasses and other exhibits including handwritten studio notes from Beatles producer George Martin were revalued as part of an internal scrutiny process.
When the valuation was put at £300,000, Merseytravel started its own investigation. The auditor, KPMG, also found two areas of concern over the purchase.
The combined report said: "The person carrying out the valuation had been a company director with the person selling the Beatles' items.
"Although the conflict was identified, the lawyers were still instructed to proceed with using this valuer.
"Both issues represent a serious failure in corporate governance."
'Beatles Story unaffected'
KPMG recommended a "full investigation into the Beatles memorabilia valuation and the authority should take appropriate action".
Merseytravel chairman Liam Robinson confirmed its initial investigation showed elements of "due process" were not followed.
He said: "We will look to take action if we establish that we were let down by those we were relying on at the time and that the interests of the taxpayer were not well served in the original negotiation.
"This could not happen now. Our new governance and scrutiny processes would not allow it."
Mr Robinson added The Beatles Story was "unaffected by this revaluation" and "remains profitable".
KPMG concluded it was "satisfied" that Merseytravel had "proper arrangements in place for securing economy, efficiency and effectiveness in their use of resources."