Janis Dundas: Jack Huxley guilty of step-grandmother murder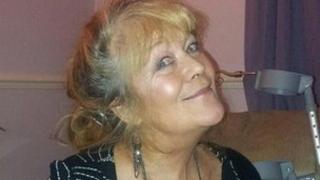 A 21-year-old man has admitted murdering his step-grandmother in a "brutal, sustained" knife attack at her Cheshire home.
Janis Dundas, 62, was found dead at the house in Atherton Road, Ellesmere Port, on 5 April.
Jack Huxley, of no fixed address, killed her after she had taken him in "out of the goodness of her heart", Liverpool Crown Court heard.
The court was told the murder was sexually motivated.
Stuart Lawson Rogers QC, prosecuting, told the court: "The defendant launched a brutal, sustained, and almost certainly, at least initially, sexually motivated attack upon Janis Dundas in the bedroom of her flat.
"This violence, perpetrated with kitchen knives, resulted in her almost immediate demise."
'Masked stranger'
Mr Lawson Rogers said that prior to the murder Huxley had used the victim's computer to access hardcore pornography that "indicated an interest in material showing sexual activity between young men and mature women".
The court heard that Huxley was a young man with a "troubled history" involving alcohol and drug abuse, behavioural problems, depression, immaturity and self-harm issues.
As a result of his problems he could no longer live with his mother and at the time had been staying at a friend's house when he began "wandering the streets" until Mrs Dundas took him in.
When Huxley was arrested on suspicion of murder he repeatedly declined to be interviewed and later told police he had seen a "masked stranger" before he found the victim's body in her bedroom.
He then changed his story and said he carried out the murder "in self-defence", allegedly to resist a sexual and/or knife attack on him by the deceased.
Huxley will be sentenced on Thursday by the Recorder of Liverpool Judge Clement Goldstone QC.