Fire-damaged Croxteth Hall reopens after renovations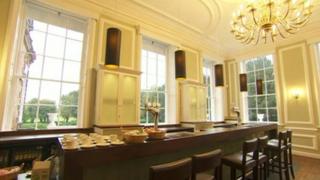 Part of a Grade II listed building which was damaged by fire more than 60 years ago has been renovated and reopened to the Liverpool public.
The Queen Anne wing at Croxteth Hall closed after the blaze in 1952.
The plans were agreed with English Heritage to refurbish the 300-year-old building in its original style.
The repair work, which cost £400,000, took five months and the former dining room, drawing room and library will now be part of the hall's function suite.
Gill Jones, from the Friends of Croxteth Hall and Park, said: "The ceilings were non-existent but now we have beautiful plasterwork, gorgeous chandeliers and wonderful furniture befitting the whole room."
Croxteth Hall is the former country estate and ancestral home of the Molyneux family, the Earls of Sefton, who lived there from the 16th Century until the death of the last Earl in 1972.