Liverpool City Council will scrap bus lanes for nine months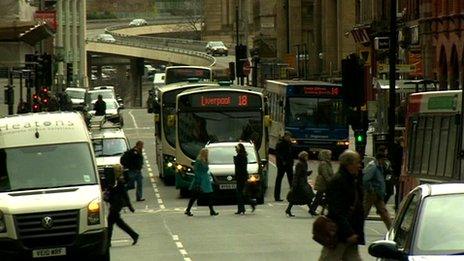 Bus lanes in Liverpool will be scrapped as part of a nine-month trial which aims to reduce traffic congestion.
Liverpool City Council has approved suspending the 24 dedicated lanes from 21 October.
Green Party councillor John Coyne said it was a "huge step backwards" and Arriva, one of the city's main bus operators, was "disappointed".
Mayor Joe Anderson said the bus lanes "simply don't work" but could be reinstated if the pilot fails.
He said: "I personally believe that there are many, many bus lane sections in the city, 24 of them, that simply don't work.
"It's not a popular stunt by me, it's because we have looked at it over six to seven months and we feel it makes no improvement to the traffic flow in the city."
Scrapping the bus lanes could cost the council about £600,000 in lost revenue from fines, Mr Anderson claimed.
He added: "If it's wrong, it's wrong and we will put it right again."
The council will be seeking views during the trial period as well as examining CCTV footage.
But Mr Coyne claims the trial is "badly designed" and is calling for "properly balanced" survey.
He said: "I think it is a populous move. People don't like getting fined for doing things they are not supposed to in their cars."
"Liverpool is taking a huge step backwards. Liverpool is supposed to be a green city," he added.
Bus company Arriva hoped the plan to suspend the lanes in the city centre would be consulted on further.
Phil Stone, regional managing director of Arriva, said: "We are disappointed that the suspension of all bus lanes in Liverpool is going ahead without any investigation or consultation which we requested.
"We had hoped that the city centre bus lanes - which we were originally told would not be affected - would at least be the subject of further consultation."
Related Internet Links
The BBC is not responsible for the content of external sites.