Liverpool's Cunard building returns to its roots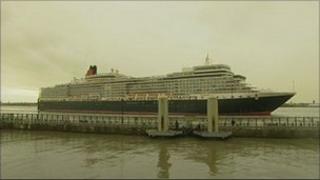 Liverpool's high-profile dockside Cunard Building is set to return to its roots as a cruise liner baggage handling and check-in centre.
The Grade II-listed building housed the headquarters and terminal for the Cunard cruise line until the 1990s and has since been used as office space.
The city council wants to take over the lease and house 1,000 of its office staff there, saving £1.35m a year.
Cruise passengers are currently using a temporary facility on the waterfront.
The lease purchase would allow the council sell off Millennium House in Victoria Street.
It would also dispose of the office it leases in the Capital building on Old Hall Street.
Council officers said the plan would boost tourism and investment in the city.
The building is the middle of the waterfront's "Three Graces", which also includes the Royal Liver building and the Port of Liverpool building.
It is owned by the Merseyside Pension Fund currently and is partially occupied at the moment by a number of small companies.
The cruise liner facility at the moment is a temporary structure on the waterfront
The proposal will be considered by the council on 11 October.