David Smith jailed for Warrington anti-tank mines theft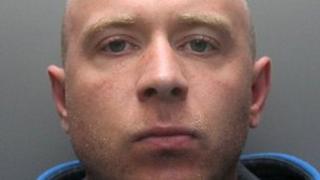 The final member of a gang that stole 40 anti-tank mines from a Ministry of Defence freight train has been jailed.
The mines were taken when a goods train stopped at a red light outside Warrington in October.
David Ian Smith, 40, of Boothwood Close, Liverpool, who admitted theft and possessing explosives, was jailed for seven years and three months.
Last week five men were jailed at Liverpool Crown Court for the theft.
Smith was due for sentencing with five other men on 16 September but failed to attend. He was arrested on Monday.
The court was told the gang could have sold the mines, which contained more than 8kg (17lb) of explosives, to terrorists.
The theft of the anti-tank mines led to a major investigation by anti-terror police and the Army.
Det Insp Paul Hatton said: "Thanks to the determination and excellent negotiating skills of the officers involved, we have managed to trace Smith and bring him before the courts so he can now join his co-defendants and serve out his sentence.
"This concludes a highly-successful, large-scale policing operation where we had to work hard to ensure the safety of the public following this theft."
The court had been told the thieves' intended target had been a nearby Asda depot and the theft of the mines was "opportunistic".
Most of the mines were recovered from undergrowth near the railway but others were found in woods in Wirral and one was found in a garage in Birkenhead.
The freight train was on its way from a munitions store in Cumbria to Oxfordshire. The mines were then due to be sent overseas.