Everton FC crest vote opens after club motto U-turn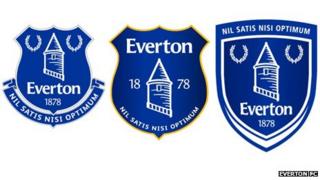 Everton FC have unveiled three crest designs for supporters to vote on after their new crest was criticised.
It was announced last week that the club's motto would return to the design after its removal for this season led to outrage from thousands of fans.
The motto Nil Satis Nisi Optimum, which means "nothing but the best is good enough", dates back 75 years but disappeared as part of a redesign.
Fans can vote on which design they prefer on the club's website.
The club apologised in May after 22,000 fans signed an online petition condemning the "awful" 2013-2014 badge.
The winning design will be used for the 2014-2015 season.
An Everton spokesman said following consultation with supporters, it was clear the majority of the fans wanted "the tower and Nil Satis Nisi Optimum" on the crest.