Helen McCourt murder: Mother against killer's parole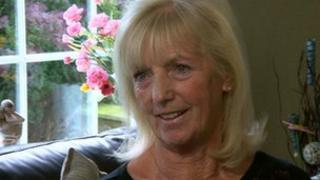 The mother of a murdered Merseyside woman whose body has never been found has told a parole board her killer should not be freed.
Helen McCourt, 22, disappeared near her home in Billinge on 9 February 1988.
Pub landlord Ian Simms, now 57, was convicted of her murder. Her body is still missing despite years of searching by family and friends.
Marie McCourt told the hearing Simms should not be released until he reveals where her daughter's remains are.
After attending the parole board hearing at Garth Prison, near Leyland, Lancashire, she said: "It is hanging over me all the time not being able to bury Helen.
"It's like an open sore that continually gets infected and has caused us so much distress."
She described the Parole Board panel as "very caring and considerate."
Simms, a married father of two, was convicted of murder and given a life sentence after blood and an earring identical to one owned by Helen were found in his car boot.
He was given a 16-year minimum tariff, which means he is eligible to apply for parole.
Life sentence
The jury agreed she had been attacked at his pub, The George and Dragon, in Billinge.
Helen went missing after she telephoned her mother to say when she would be home from work at an insurance company in Liverpool.
During his trial, the judge described how Simms "desecrated" Helen's remains, "cast her clothes to the rats" and denied her family the chance to pay their last respects.
Mrs McCourt and her family have spent years looking for her body in a hunt which has included draining ponds and exploring old mine shafts. A digger has also been used to excavate ditches.
'Horrible nasty letter'
She said: "I am determined he is not walking free without disclosing where Helen's remains are buried. Until then, I cannot see how he can be considered safe to be released."
Mrs McCourt has previously written to the killer, in 1991, urging him to tell her where her body was buried. He sent "a horrible nasty letter" in response, she said.
Mrs McCourt has always insists that both letters are read to the board. A decision is expected within a fortnight.
For three years after the murder, the family were out every weekend searching, sometimes joined by up to 40 people. They still carry out searches when they can.
"It's an awful, awful thing when you can't bury your child," Mrs McCourt said. "It's like a tap - drip, drip, dripping away in your head."
A spokesman for the Parole Board said: "We cannot comment on individual cases. But the panel is mindful of information any of the victims have of the impact on their life if a prisoner is released."