Liverpool's Raheem Sterling girlfriend assault case collapses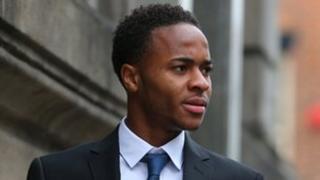 Liverpool and England footballer Raheem Sterling has been cleared of assaulting his former girlfriend.
The 18-year-old was accused of attacking 19-year-old model Shana Ann Rose Halliday during an argument after a night out in Manchester.
Mr Sterling, from Woolton, who denied common assault, walked free from court after the case collapsed.
Liverpool Magistrates' Court heard Miss Halliday's evidence contradicted earlier statements.
The court heard the player and Miss Halliday had gone out for a meal on 8 August but on the drive back to Liverpool an argument started about a text message on Mr Sterling's phone.
The prosecution alleged Mr Sterling assaulted her twice in his car, but it then withdrew its case when Miss Halliday failed to support the prosecution's case by giving "disappointing" evidence.
Mr Sterling, a winger, has appeared for Liverpool 43 times and has one cap for England.
A Liverpool FC spokesman said the case had been "a private matter for Raheem and as such we will not be making any comment".