IPCC Hillsborough witness appeal gets 'good response'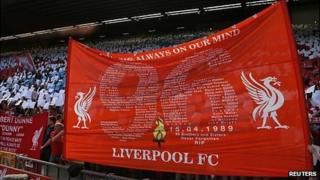 An appeal for Hillsborough disaster witnesses to come forward for re-interview has had more than 500 responses within the first 48 hours.
On Tuesday, the Independent Police Complaints Commission asked those who were at the stadium to contact them.
The IPCC is examining police actions at and after the 1989 FA Cup semi-final in Sheffield, at which a crush resulted in the deaths of 96 Liverpool fans.
IPCC deputy chair Deborah Glass said it was an "encouraging initial response".
The match against Nottingham Forest was held at Sheffield Wednesday's Hillsborough stadium on 15 April 1989. Ninety-five fans died on the day and another died of his injuries four years later.
The IPCC's investigation follows the report by the Hillsborough Independent Panel published last September, which concluded the lives of 41 fans could have been saved and cleared supporters of any wrongdoing.
It found South Yorkshire Police had altered more than 200 statements and tried to blame fans.
In the aftermath of the tragedy, West Midlands Police was appointed to gather evidence on the original investigation for subsequent inquiries and inquests.
The IPCC revealed there were "differences" between fans' statements and questionnaires they returned to the West Midlands Police inquiry.
'Incredibly traumatic'
As a result, the police watchdog issued a request for the "thousands" who gave witness accounts to get in touch with the organisation, so they could be re-interviewed.
Ms Glass said investigators had already begun to speak to some of those who had got in touch, but there were many more people the IPCC wanted to hear from.
"We have had a very encouraging initial response [but] we want to speak to as many people as possible," she said.
"We want to build the most comprehensive account there has ever been about the events of Hillsborough and we can only do that with the help of those who were there on the day and who gave accounts to West Midlands Police.
"Eyewitness accounts will be vital in building the evidence base which would be crucial to any future prosecutions or misconduct proceedings."
She added that the IPCC understood it would not be easy for witnesses "to revisit such incredibly traumatic events" and the organisation would support those who came forward "in whatever way we can".