Rebuilt £15m Notre Dame Catholic College opens as part of major investment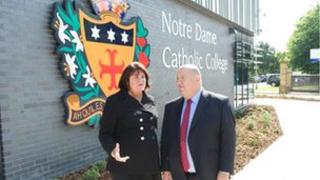 The first of 16 Liverpool schools to be rebuilt as part of a £169m project has opened.
Notre Dame Catholic College, in Great Homer Street, Everton, is the first school to open at a cost of £15m.
Some schools are being rebuilt on their current sites and others at new locations.
The work, which took a year at Notre Dame, has been paid for by the government and city council as part of Liverpool's "City Deal".
Proposals also include spending money on other schools most in need of investment.
During the building work students remained in the old building next to the site.
'Great moment'
Frances Harrison, Notre Dame Catholic College head teacher, said they had been "bowled over" by how light, airy and spacious the building is.
She said it was a "tremendous honour" to be the first school to benefit from the investment.
Among the other schools involved in the investment programme are Archbishop Beck Sports College in Fazakerley and St John Bosco Arts College, that open next year.
Liverpool Mayor Joe Anderson said it was a "great moment" for the school and was "delighted" it had opened "on time and on budget".
He said the school showcased "some of the latest technology" to ensure pupils get the most out of learning.