Liverpool court clerk guilty of licence points scam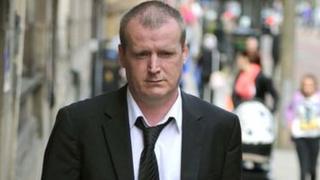 A court clerk has been found guilty of helping motorists falsify their driving records and escape bans in return for cash payments.
David Kelly, 47, of Liverpool, ran the scam from his office at Liverpool Magistrates' Court, a jury heard.
Preston Crown Court was told motorists would pay for driving offences to be deleted from their licences.
Kelly was found guilty of conspiracy to pervert the course of justice.
He was remanded in custody ahead of sentencing on Friday.
'Abused his position'
Three other people were found guilty of conspiracy to pervert the course of justice and fraud after arranging to have points removed from their own driving licences.
Kelly, who worked as an administrator for Liverpool Magistrates' Court for 20 years, applied to the Driver and Vehicle Licensing Agency (DVLA) for points to be removed from the licences of more than 70 people between 2004 and 2010, the Crown Prosecution Service (CPS) said.
Dana Gledhill, of the CPS, said: "He abused his position within the court system to commit these offences and his actions and subsequent conviction jeopardise the public's faith and trust in the Criminal Justice System.
"Fingerprint evidence and a handwriting expert proved that Mr Kelly wrote and submitted numerous documents to the DVLA to request that points be removed from the licences.
"Computer evidence showed that he then checked the progress of these requests on the computer system, which was linked with the DVLA.
"Throughout the investigation and the trial Mr Kelly has changed his story numerous times and claimed he simply could not remember sending the forms, whilst being unable to offer a legitimate explanation as to how he could have inadvertently done so."