Port of Liverpool £300m project to deepen approach starts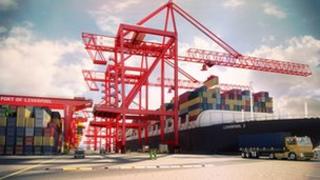 Work has begun on a £300m port project that will allow larger ships to dock in Merseyside.
The project will create a Liverpool2 container terminal at Seaforth, opening in 2015.
Earlier this year, dredging began as part of Peel Port Group's (PPG) expansion of the Port of Liverpool that will deepen the Mersey approach channel to 16m (52ft).
The company said 5,000 jobs will be created by the port and supply chain.
The facility will add half a million containers to the Port of Liverpool every year, taking its annual capacity to two million.
'Unavoidably noisy'
Residents in Sefton and Wirral have been warned to expect noise disturbance as several hundred steel piles are driven into the river bed.
The company said the piling works to create a sea wall - taking place until July next year - will be "unavoidably noisy".
Peel Ports' managing director Gary Hodgson, said: "The government is crying out for private business to invest in new infrastructure to kick-start the economy and boost international trade and there are few better examples in the UK than this development."
Liverpool2 will allow vessels carrying up to 13,500 containers to call at the Port of Liverpool. Currently, its limited to accepting ships with fewer than 3,500 containers.