Warrington Council bosses' pay rise approved despite protest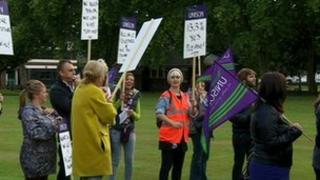 Plans for some senior bosses at Warrington Borough Council to get pay rises of more than £10,000 a year have been approved despite protests.
Union members demonstrated outside council offices, where the 4.4% to 13.3% increase was being discussed.
The GMB called the rise "immoral", as council staff were given a 1% increase following a three-year pay freeze.
The council said it would save the taxpayer over £200,000 a year due to changes to the management structure.
Councillor Hitesh Patel said some senior managers had "bigger responsibilities" following job cuts.