Merseyside charity walk for dementia victims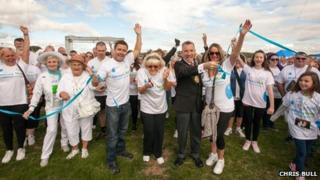 More than a thousand people joined a charity walk to raise awareness of dementia and remember sufferers who have died in Merseyside.
Doves were released during the six mile (10km) Alzheimer's Society's Anfield Memory Walk, which raises money for people diagnosed with the condition.
About 16,000 people are living with dementia in Merseyside.
Liverpudlian Big Brother winner Craig Phillips took part with mother Brenda, who has Alzheimer's.
"The disease is devastating - the closest person to you in your life is just taken away," he said.
"What the walkers did will help each and every one of us and the next generation as well."