Plans for Merseyside combined authority mooted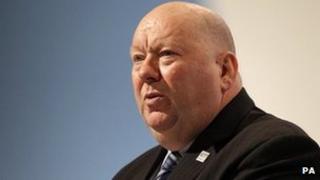 Plans for a combined authority on Merseyside are to be discussed, in the hope it could aid the local economy.
Under the plans Liverpool, Halton, Knowsley, Sefton, St Helens and Wirral councils would devolve key powers into a single body.
It follows a governance review by the authorities - as well as Merseytravel and the Local Enterprise Partnership.
If approved it could bid for extra government money on transport, economic development, employment and skills.
'Absolute no-brainer'
The model has been likened to the Greater Manchester Combined Authority, England's first statutory combined authority created two years ago, which co-ordinates key economic development, regeneration and transport functions.
Liverpool mayor Joe Anderson said: "The government are clear that this is a model of governance that will put regions ahead of the game in the race for funding.
"For me it is an absolute no-brainer and merely lays down the existing positive, but informal, arrangements that already exist.
"We desperately need to secure more funding if we are to continue to increase the number of jobs and lever in more investment."
If the proposal is agreed, a formal submission will be made to the government on 30 September.
'Drawing down money'
Wirral Council leader Phil Davies said the proposal would not be recreating the Merseyside County Council that existed from 1974 to 1986.
"It was more involved in the day-to-day running of peoples' lives than this combined authority would be," he said. "The latest plan is really more about drawing down government money."
He said: "The councils have all said this isn't a case of getting rid what exists already. There will still be individual council leaders - they've all rejected the idea of one 'metro' mayor."
A report will be considered by Liverpool City Council's cabinet on Friday 13 September and the full council on 18 September.
A public consultation ended on Friday.