Dingle tunnel collapse repairs to start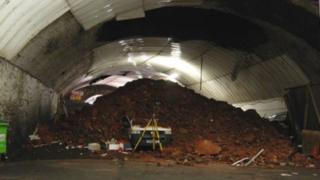 Repair work on a tunnel that collapsed beneath homes in Liverpool is due to start more than a year after residents were evacuated.
Eleven houses were declared unsafe after the disused railway tunnel in Dingle collapsed, in July 2012.
Liverpool City Council said it had "resolved outstanding legal issues" and awarded a contract to engineering firm SES Contracting.
Deputy mayor Paul Brant said the delay had been "frustrating" for residents.
Families in the homes affected on Sundridge Street, Dingle Grove and Toxteth Grove have been living in temporary accommodation.
One of the residents, Maria Sullivan, said she received a letter on Tuesday saying the work would be starting but did not specify a date.
"I'm not holding my breath yet, we've been here before," she said.
"We had a meeting on 6 June where we were told work would start before the end of June and it was going to take 11 weeks - we should have been back by now."
Mr Brant said: "This has taken longer to finalise than we would have wished, but it was vital we made sure that residents were not left in a permanent legal limbo.
"It has been a dreadfully frustrating time for those affected, and I fully appreciate, understand and sympathise with them."
The council said a safety inspection will take place in the next few weeks and contractors will begin repair work shortly after.
It is estimated the project will take at least three months to complete.
A survey, undertaken by Liverpool City Council, could not confirm the cause of the collapse in the tunnel, which runs for 0.75 miles (1.2km) under Dingle.