One in six dog bite hospital admissions in North West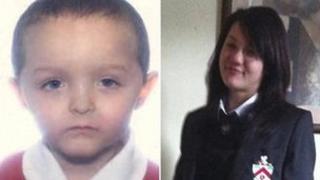 One in six hospital admissions for dog bites in England were in the North West of England, according to a health report.
Primary care trust data from The Health and Social Care Information Centre (HSCIC) shows 123 cases in Liverpool and 82 in Manchester in the past year.
It also revealed the highest level per 100,000 people was 21.6 in the North East and 17.5 in Yorkshire and Humber.
Admissions were lowest on the South East coast at 5.1 per 100,000 people.
The figures show the highest number of admissions for an individual primary care trust was Oxfordshire, with 158 admissions.
Earlier this year parents whose children were killed by dogs took a petition to Downing Street calling for action to prevent attacks.
Preventative measures
Jade Anderson, 14, was mauled to death by four dogs at a friend's home near Wigan in March and John Paul Massey, four, was killed in Liverpool in 2009.
Relatives handed a 4,500-signature petition to the Prime Minister urging preventative measures and education.
Liverpool Wavertree MP Luciana Berger said: "These local figures are a stark sign that much more needs to be done to tackle the 210,000 dog attacks that happen across England every year.
"Too many families have lost loved ones to dog attacks and thousands of people are being hospitalised with long-term consequences. The government needs to act urgently.
"They should introduce measures that will prevent these tragedies from happening in the first place, such as Dog Control Notices which experts are calling for.
"It's time the government stopped just talking tough and took the proper action that is clearly needed."
Plastic surgeon Christian Duncan, from Alder Hey Children's Hospital in Liverpool, said: "About 50% of injuries involve the head or neck or hands and can be absolutely devastating."
He said it was important to look after dogs responsibly near children.