Liverpool's Sefton Park given Grade I listed status by English Heritage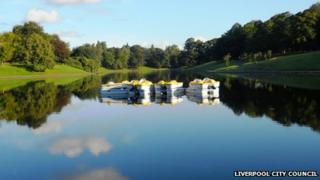 An historic Liverpool park has been reclassified by English Heritage to a Grade I listed status.
Sefton Park, which includes the iconic Palm House, was given the highest possible rating after a national review of registered municipal parks.
The 235-acre site is considered to be an important early example of this type of park in one of England's industrial cities.
It was built by Liverpool City Council and opened in 1872.
Sefton Park was designed by Liverpool architect Lewis Hornblower and landscape architect Édouard André who also worked on parks in Paris.
'Delighted'
The former Grade II* listed park underwent a £7m restoration in 2005 which included a refurbishment of the watercourses, the renovation of rockeries, a new play area and the restoration of monuments.
Another £6m programme to resurface the roads around the park has also been completed and the council has introduced pedalos back on to the lake.
Liverpool mayor Joe Anderson said he was delighted that Sefton Park had been reclassified.
"This regrading by English Heritage shows their confidence in our work to maintain its historic features and make sure we attract as many people as possible into it," he said.
"It recognises the investment that has gone into restoring, maintaining and improving the site in recent years."
As part of the national review, Wavertree Botanic Garden and Park has also been regraded as Grade II* from Grade II listed status.