Save North Liverpool Community Justice Centre call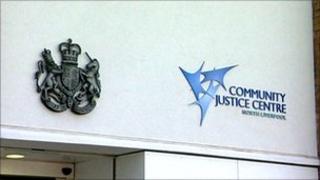 Closing North Liverpool's pioneering community justice centre could make policing harder, Merseyside's Police and Crime Commissioner has said.
PCC Jane Kennedy said the closure of the centre, which opened in 2005, would be an act of "unnecessary vandalism".
The centre combined a court with community services for victims and offenders.
The Ministry of Justice said it is assessing the responses it received to a consultation which closed on Tuesday.
The MoJ has a lease break on the premises in March 2014, with the next break in 2017.
'Troublesome offenders'
Ms Kennedy said she was "deeply concerned" that the government made the announcement as Parliament went into recess.
"This made it difficult to take the views of many local stakeholders," she said.
She also said closing the centre would make the job of Merseyside Police "more difficult as the reforming work with prolific offenders will lose its focus".
The PCC added that transferring the workload to Sefton Magistrates' Court would be difficult to merge the cultures of the two courts.
Professor George Mair, of Liverpool Hope University, wrote a report in 2011 which predicted the centre could fall victim to spending cuts despite warning that a lack of data on the impact will make it difficult for the MoJ to assess the centre.
'Value for money'
"I don't think it ever got a fair chance," he said, adding: "I think it is ironic that at a time when the government is talking about community justice that the community justice centre is closing."
Housed in a former school, the centre, based on a project in the USA, focused on offenders making amends to the community with a judge also monitoring treatment programmes and community punishments.
Announcing the consultation in a written statement in July Minister for Victims and Courts Helen Grant said the workload had fallen leaving the centre underused.
A document from the MoJ argued that the centre is expensive with an operating cost of £980,000 in 2012/13 with, "no evidence that it has or will deliver results on reoffending levels and it does not deliver value for money for the taxpayer".