Wirral Council staff take unpaid leave in bid to save £1.5m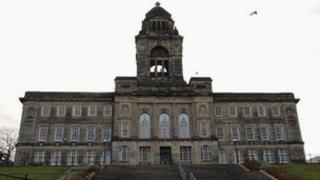 Wirral Council services were affected on Tuesday as most staff took a day's unpaid leave to save costs.
It is the first of four unpaid days off agreed by the authority's 4,700 staff as it deals with budget challenges. The move could save £1.5m.
The three remaining days will be taken in between Christmas and new year. All leisure facilities are open as normal and essential services are staffed.
Joe Blott, strategic director at Wirral Council, said it was "regrettable".
'Reduce staffing costs'
Mr Blott issued a sincere apology for any disruption, adding: "But it is a result of the financial position the council is in at the moment - we have to save money.
"Doing things in this way means we can reduce staffing costs and also make savings on other costs, such as heating and lighting, as many council buildings will be closed completely on those four days."
A council spokesman said the only council services which were operational were leisure centres and CCTV control rooms, plus staff on call in case of emergencies.
He said: "It is something people have accepted and in the long-run it may save a few jobs."