John Lennon tie sells for £3,000 at Liverpool Beatles auction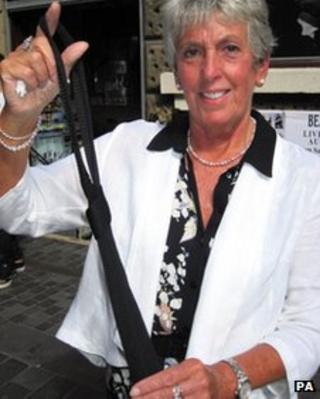 A black knitted tie that belonged to John Lennon has sold for more than £3,000 at an auction in Liverpool.
Lennon gave the tie to Joyce McWilliams in 1962 when she was 15 and used to attend the lunchtime sessions at the famous Cavern Club.
He also gave her a handkerchief, which he had used to mop his forehead in the hot club.
Rare photographs of The Beatles were also sold at he auction at the Beatles Shop in Mathew Street.
Ms McWilliams took the items home and was heartbroken when her mother told her that she had washed the handkerchief.
'Mop his brow'
"The Beatles were recording some numbers and I was sitting on the edge of the stage holding the microphone stand," she said.
"It was very hot in the club and John asked me to lend him a handkerchief to mop his brow with.
"He handed it back to me, and loosened his tie when I said: 'I thought you were going to give me your tie,' and he just handed it to me."
Manager Stephen Bailey, said the auction had gone well.
"Every year we think that the quality and number of rare items offered for auction must decrease and we are always proved wrong," he said.
"It is amazing, people just keep coming into the shop month after month with the most unusual rare items."